The 3rd International Symposium of Acupuncture in Taiwan
2012 / 01 / 08 (Sun.)
2012年一月八號星期日上午我們於國立中國醫藥研究所舉辦第三屆國際針炙會議。在連日下雨的台北在今天日終於放晴,似乎也預言我們將會完美地舉辦會議。醫院工作同仁八點就在國立中國醫藥研究佈置場地及預演流程,為今天的會議作準備。
We hold The 3rd International Symposium of Acupuncture in Taiwan at the National Research Institute of Chinese Medicine in the morning on Sunday January 8th, 2012. Taipei city rained in these days, but luckily it was a sunshine day. It seemed to predict that we will perfectly host the meeting. The staffs of the conference decorated the venue and rehearsed the process to prepare for today's conference in National Research Institute of Chinese Medicine at 8 am.
八點半開始與會來賓也陸陸續續報到參加,此次主要參與者有來自巴西聖保羅醫院的針炙醫療人員、陽明大學國際學生及國內中醫師。會議成立的目的主要是促進國內外的針炙交流同時也讓國際學生們更認識不同國家之間的針灸操作方法也不同,但相同的目標都是為了治癒更多的病人並增進醫療技術與品質。
The guests and participants continued to report the venue. This time the major participants are from Sao Paulo Medical who are medical staff and acupuncture experts in Brazil, National Yang-Ming University who are international students and the TCM doctors in Taiwan. The main purpose of the meeting is established to promote international exchanges of acupuncture and also make international students better understand acupuncture in different countries with different ways to operate. However the treatment is in different ways but we have same goal to cure more patients and enhance the quality of medical skills.
期待已久的第三屆國際針灸學術研討會終於在風和日麗的早晨開啟序幕,衛生局長林奇宏局長、國立中國醫藥研究所所長黃怡超等,皆到場致詞,接著由中醫藥委員會主任委員,黃林煌主委開啟第一場演講,介紹台灣這兩年來中醫藥的發展,其中提到台灣全民健康保險涵蓋中醫藥,實屬獨步全球的創舉,而且中西藥交互作用的通報更是領導世界中西醫用藥的潮流。除此之外,台灣更積極制定中藥品質管制的標準,與會人員了解台灣對中醫發展不懈的努力,令身為台灣人的我倍感驕傲。
The 3rd International Symposium of Acupuncture in Taiwan opened in a beautiful sunny morning. The Secretary of Department of Health, Lin,Chi-Hung and the Director of National Research Institute of Chinese Medicine, Huang, Yi-Tsau all at the ceremony. The chairman of Committee on Chinese Medicine and Pharmacy, Huang, Lin-Huang gave the first lecture, introduced the development of Chinese medicine in Taiwan these two years, which refers to the Taiwan national Health Insurance covers Chinese medicine, it is global initiative policy. Taiwan is also the leading country of developing the report system about interaction between Chinese and Western medicine. In addition, Taiwan has been actively developing standards for quality control of traditional Chinese medicine. Participants understand the development of Taiwan's unremitting efforts, so I feel as proud of the people of Taiwan.。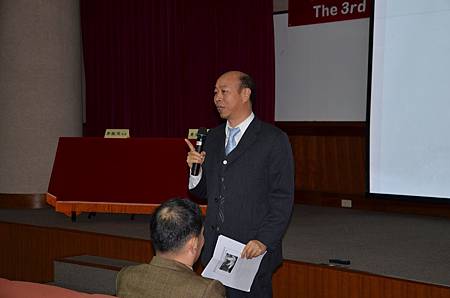 Dr. Huang, Lin-Huang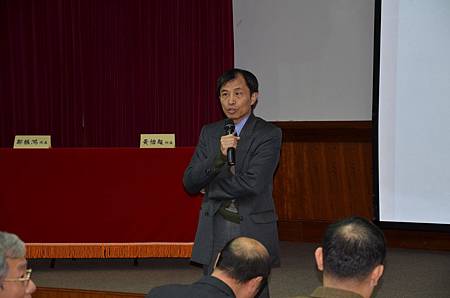 Dr. Huang, Yi-Tsau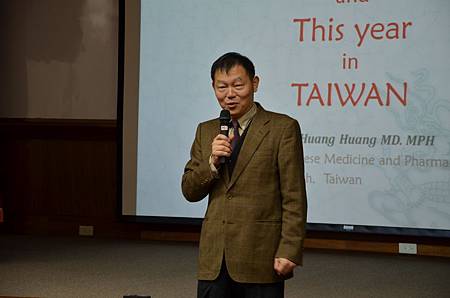 Dr. Lin,Chi-Hung
早晨的會議內容十分的充實,有林昭庚教授介紹的針灸實證醫學,讓我們看到現代中醫研究的進步還有科學化,還有來自巴西的李世民醫師介紹巴西的針灸教學及醫師執業狀況,讓我們了解遠在太平洋的另一端也有一群中醫師努力照顧病人,也為中醫的教學努力。
The meetings in the morning are very enrich. Professor Lin,Jaung-Geng described evidence-based medicine in acupuncture, let us see the progress of modern medicine and scientific research, as well as Doctor Li Shih-Min from Brazil described Brazilian physicians practicing acupuncture and teaching situation, let us understand that there is a group of practitioners to care for patients, but also for the teaching of Chinese medicine at the other site of Pacific.
中午與會人員享用了大會準備了精緻的餐盒後,經過了短暫的休息,下午的會議由參觀國立中國醫藥研究所的珍貴藥材標本館揭開了序幕,此館自從創立以來,開始對中藥材標本進行蒐集工作,目前館藏標本超過千餘種,並擁有數件收集不易之珍貴藥材,為台灣中藥標本館之代表。經由館方人員細心導覽,使得許多外賓見識到了我國傳統醫藥的歷史與文化。
After all participants having dainty lunch boxes and taking a rest, all participants visited Herbarium of National Research Institute of Chinese Medicine first in the afternoon. This herbarium was started in 1963. This herbarium collected mainly medicinal plants found in Taiwan, China and other country with the mission of research and education of Chinese medicine. The subjects displayed are medicinal plants, medicinal animals, medicinal minerals. Now, they over 5,000 determined specimens have been numbered. Many participants were very surprised and interesting in those specimens by guided tours.
下午的第一場演講由長庚紀念醫院中醫針傷科薛宏昇主任為大家帶來使用DNA微陣列分析來探討使用針灸對於過敏性鼻炎的療效評估,運用最新的西方技術來結合傳統中醫針灸的使用,用來使結果更標準化、科學化。
The first speech was Dr. Horng-Seng Shiuh from Director, the Department of Acupuncture & Traumatology of Chang Gung Memorial Hospital, he gave us the lecture on using DNA microarray analysis to investigate the therapeutic of allergic rhinitis by acupuncture. He applied both the latest Western technology and the traditional Chinese acupuncture in therapy to make the results more standardized and scientific.
接下來由來自巴西的蔡萬文)醫師為大家分享他於巴西對於許多肌肉骨骼系統所造成的疼痛的治療經驗,其中也包括了各種西方的治療方式並且搭配了中醫針灸治療以及許多的物理治療等方式。
Next speaker was Dr. Wan-Wen Andre Tsai from Brazil. He told us his experience in treatment of musculoskeletal pain in Brazil. He assessed with western medicine methods, but using acupuncture as a powerful tool to treat differential pain. It was mean acupuncture treatment was accepted in Brazil.
經過了短暫的茶點過後,由來自巴西的吳督行醫師跟大家分享他使用溫式頭皮針治療中風的經驗,並且搭配了MRI的分析更進一步確認療效。
After taking some dessert and rest, the next speaker was Dr. Tu-Hsing Wu from Brazil. He gave us a speech about his experience in using Wen's scalp acupuncture for stroke sequelae. He used MRI to evaluated stroke patient after Wen's scalp acupuncture treatment. It was a new method for treating stroke.
接著由台北市立聯合醫院林森中醫院區醫務長許中華醫師為大家帶來他多年來使用針灸與綠茶萃取物(EGCG)對於治療肥胖病人的療效評估,並且分享了許多他執行臨床研究的經驗。
The next one speaker was Dr. Chung-Hua Hsu from Medical Deputy Affair, Branch of Chinese Medicine, Taipei City Hospital. He gave us the lecture on treating obesity by acupuncture and green tea extraction (EGCG). He was good at doing clinical trials and shared his experience in how to conduct them.
最後由來自巴西的簡秀芬醫師帶來她於巴西使用華陀夾脊穴的新觀念與方法,不同於已往的觀念,給大家帶來許多新的思考方向。在結束了簡醫師的演講後,也象徵了本次的會議來到了尾聲,最後在所有與會外賓的大合照下完美的結束了本次的會議
The last speaker was Dr. Hsun-Fen Chien from Brail. She told us her new concept for Hua Tuo Jia-Ji point application in Brazil. She gave us a lot of new direction on acupuncture. After Dr. Chien's speech, all participants took pictures together. The 3rd International Symposium of Acupuncture in Taiwan end in a satisfactory way.
本次研討會議總共有一百二十五位人員參與,其中有二十三位巴西聖保羅醫院針灸科醫師、六位國際學生以及國內醫師九十六位。來自海外的與會國家共有六國,分別是巴西、厄瓜多、泰國、德國、印尼以及印度。透過本次研討會,讓我們更加了解國際中的針灸現況,以及各國的針灸運用方法。希望透過研討會能讓針灸在國際間的交流更加的廣泛,以期流通更多的資訊,獲得更多的收穫。
One hundred twenty-five people attended the international symposium, including twenty-three physicians from acupuncture center of Sao Paulo hospital, six international students and ninety-six domestic physicians. There are six overseas countries which the conferees came from, namely Brazil, Ecuador, Thailand, Germany, Indonesia and India.Through this international symposium, we can understand the status of acupuncture in the world, and the use of acupuncture in every country. We hope the international symposium can make more international exchanges about the acupuncture to get more circulation of information and more gains.